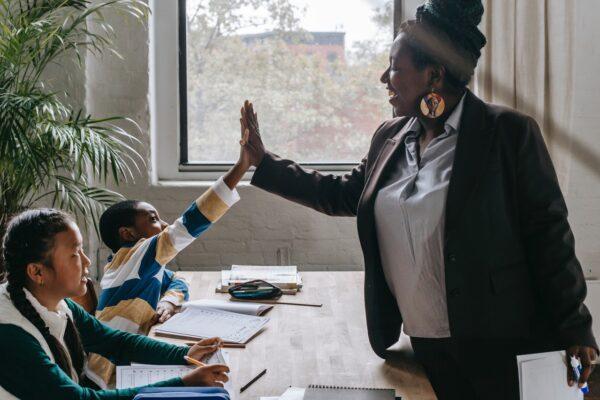 Online learning is revolutionizing the way the world learns. It has the potential to dramatically expand the educational opportunities of students everywhere, largely overcoming the geographic and demographic restrictions.
Can this also take place in Africa? Why not? Technology is Africa's hope, our most likely chance of competing on a global scale regardless of how far behind we are. With the right application of technology, a garage can compete with a skyscraper, and the best can be crafted from the minutest.
Education is still a major problem in Sub-Saharan Africa, and the out of school kids statistics in Nigeria is the worst globally. 60% of the 180 million people in Nigeria are under 15 years old, which makes our problems even more difficult to tackle. Where does the problem lie? What do we do? Hire and train more teachers? Build more schools? Encourage more kids to go to school? Whatever policies, initiatives or attempts to take us from where we are to where we want to be, has to be supported by technology and the internet in order to have any impact.
It is cheaper and more cost-effective to provide internet than to build roads, Not that building roads is less important, but internet availability is as important as road construction, healthcare, and education.
Every industry leverages soft technology to drive enormous efficiencies both in terms of overhead costs and in terms of increasing the quality of the output, some industries more than others.
There are barriers in the history of education in Nigeria, such as access to good schools, affordability of good schools, access to quality educators, low educator welfare, design of lessons, learning styles effectiveness, redundant curriculums and so much more. The development and proliferation of online learning to supplement the curriculum is beginning to break down these barriers, and with further applications of online education applied creatively over time, the barriers would shift.
Students being able to receive customized instructions from the best teachers, or even just their own teachers would enable mass customization in education, allowing students to learn at their own pace in ways that are tailored to their learning styles and interests.
The best teachers will use technology to reach many more students as the revolution is already underway. Students appear to be benefiting from online learning programs. While evidence about the effectiveness of primary and secondary online learning is limited, there is reason to believe that students can learn effectively online. As far back as 2009, a US study reported that "students who took all or part of their class online performed better, on average than those taking the same course through traditional face-to-face instruction". In addition, online learning has the potential to improve productivity and lower the cost of education, reducing the burden on budgets.
So what really is online learning?
Online learning is quite different from the traditional concept of education, which involves sharing the same physical space with an instructor.
Existing online programs and solutions differ from traditional education in a number of ways:
Online lessons can either be comprehensive or supplementary to a child's education. Some are full-time while some are for after school tutoring.
Teacher interaction. There's real-time where interaction is live, and there's asynchronous where students learn at their own pace and on their own time schedules. Regardless of the method, regular communication is required between tutor and students through videos, instant messaging and other channels.
Physical location. Some allow students to learn exclusively from home, on their own or with a guardian, while some offer blended learning, which combines online learning with face-to-face instruction.
Are they public programs or private?
Range of students served. Students of all ages and learning backgrounds can be served by online learning, from the current statistics, Senior Secondary students use it most, followed by Primary and lastly Junior Secondary.
The Potential Benefits of Online Learning
Given the many ways that the information revolution and the internet have already changed and improved lives, the potential educational benefits are significant. Primary and Secondary education, both public and private would be transformed, and learning opportunities would be increased in a number of ways:
Increased access to high-quality teachers. A child's chances of attending a school with high-quality teachers largely depend on where she lives, which is shaped by parents' financial means. All students, regardless of where they live can access the best instructors and address teacher shortages.
Mass customization and optimization. Students receiving instruction at their pace, learning styles and interests, will increase customized education, which makes the learning process more enjoyable and productive. And parents would be able to monitor their children's progress more closely.
Increased flexibility. It would also provide kids with greater flexibility in when and how they learn. Online learning allows students to learn anytime at their own pace. This opportunity also leaves time to pursue other interests and activities. This flexibility can particularly benefit students who have specific challenges in their education, such as those who have fallen behind in their studies due to one reason or the other.
Improved welfare and flexibility for teachers. Teachers would be provided with new earning potential. Also, teachers would have more time for themselves and their families, by not needed to go from house to house to meet all students after-school needs.
Improved productivity and efficiency. There's potential to lower the cost of education and further improve productivity, thereby reducing the burdens on the state, parents and educational institutions.
The increasing use of online learning will provide instructors and online learning operators with incentives to innovate and develop new learning tools that could improve students' learning options in ways unimaginable today.
Conclusion
Online learning has the potential to revolutionize education in Africa as it's already doing in other parts of the world.
Students appear to be benefiting and teachers feel rescued from a life of monotony. The earlier online education is embraced, the faster we will ascend to relevance and then greatness. Schools, policymakers, parents, teachers, and even our kids, are already more open to, and pro-active towards growth using technology. It is a wise path to follow.